Allcontrols offers full turnkey solutions for the recovery of clean white, brown and jazz (coloured) PVC, using the latest technology and specialist expertise.
PVC is the third most manufactured plastic in the world, after PE and PP.  PVC's two basic forms consist of a rigid type and a flexible type. Rigid PVC is used to manufacture items such as windows and pipes for the construction industry. Flexible PVC is produced by adding phthalates (a plasticiser) which can then be made into items such as cable insulation for the plumbing and electrical industries.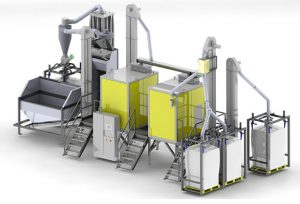 With a wealth of experience in PVC window frames and pipe recycling for both post-consumer and post-industrial streams, Allcontrols can provide bespoke solutions for all sorting and separation requirements. Fractions – such as ferrous, non-ferrous, stainless steel, silicon, rubber, PA, PP, Q-lon and wood – can be removed from the PVC stream, leaving it with a minimum purity of 99.5%.