Partner Focus: Cimbria – introduces the SEA TRUER
CIMBRIA introduces the SEA TRUER; the latest in SEA's electronic colour sorting equipment. Launched last November as an upgrade of the SEA TRUE, this machine offers technological features and performances that have never been seen before.
Whilst the appearance of the machine remains very similar to the SEA TRUE, the difference lies within the sorting algorithm which has been completely renovated. The SEA TRUER range combines the high production capacity with a multi-spectral vision system of RGB full-colour and infrared technologies.
What is the SEA TRUER capable of?
The SEA TRUER series is based on full-colour technology and provides the highest yields and quality of bulk materials in several food and industrial applications.
SMART RGB full-colour cameras with 0.06mm optical resolution enable the SEA TRUER to recognise defects and can provide incredible detection and removal of any unwanted elements. It is ideal for almost any product and can determine and separate even the smallest colour, shade, transparency and opaque differences. It also meets even the strictest market requirements.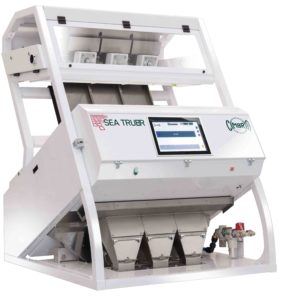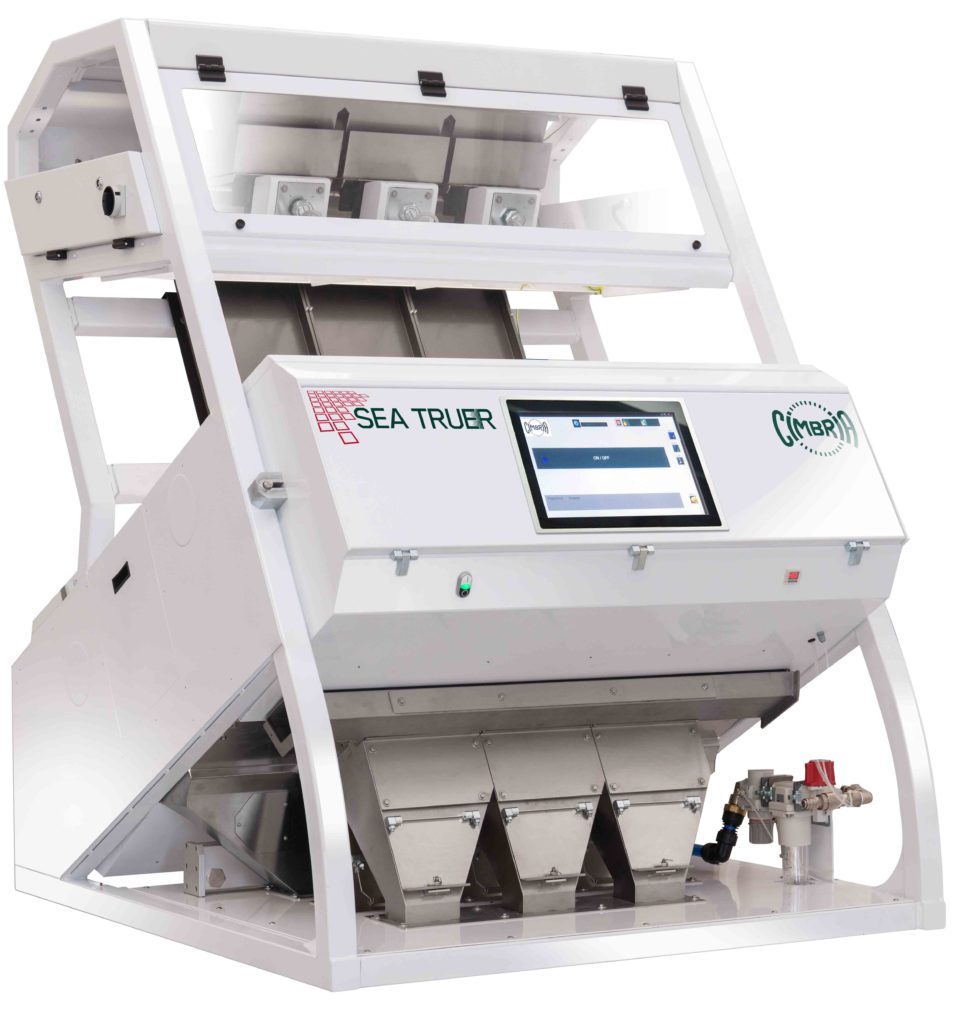 Main Features of the SEA TRUER
Maximum empowered production capacity.
Available from 1 to 7 chutes to meet any production capacity needs.
Can be set up with up to four different sorting configurations which work independently.
Reversible chutes with smooth and channelled surfaces.
Specialists in advanced electronics
SEA TRUER hardware is organised into easily replaceable electronic boards.
Contains self-control functions such as auto-diagnostics and autocalibration.
Custom-made sorting solutions can be stored on the system.
Software backup is possible via USB port.
Connectivity and User Experience
Easy to connect to a company network and remote assistance systems thanks to the Windows 7 embedded graphic interface.
Intuitive software interface with 15-inch multi-touch colour display.
Ultra rapid firing ejectors
State of the art ejectors guarantee the most accurate precision and expulsion.
SEA TRUER ejectors are guaranteed for more than 2 billion operating cycles.
Mechanical Design
Dust is prevented from entering thanks to pressurised and conditioned optical boxes and airtight structure.
Easy product collection and sampling.
Tilting optical boxes to allow for thorough cleaning and maintenance.
Other additional features available include customised colour, stainless steel versions and a CE certification which indicates conformity with health, safety, and environmental protection standards.