Partner & Client Focus: hamos – experts in electrostatic separation!
Since 1980 hamos has succeeded in establishing itself as one of the worldwide market leaders in separation technologies. As a leading manufacturing organisation of electrostatic separation machines hamos has gone from strength to strength over the last 40 years. 
Electrostatic separators are used substantially for the recovery of materials such as WEEE recycling (small and large domestic appliances (SDA/LDA), metal reclamation from cable granulate, automotive shredder residue (ASR) recovery, PET flake processing and PVC window frame recycling to name a few.
hamos EKS
The hamos EKS machine was first developed in 2000 and highly effective in the separation of the following typical plastic/polymers such as:
as well as:
Metals – used cable granulate (shaker table residue) 
WEEE – Electronics waste

Composite/comingled materials  
Furthermore, the hamos  EKS can also be used for the removal of foreign substances from plastics and other materials. The hamos  EKS tribo-electric effect enables entirely different mixtures of plastics to be electrostatically separated, regardless of colour ( including black).
How does it work?
The different polymer types are charged by impact within the hamos EKS system. This impact causes one polymer type to lose electrons and simultaneously the other polymer type will adopt them, resulting in positively and negatively charged polymer fractions.
These charged polymer fractions are then transported into a high-voltage field which is either negative or positive. Depending on the charge, the fractions are either attracted or repelled by the high-voltage field, thus splitting the two.
This versatile machine can split co-mingled granulated polymers (including black plastics) into very high purity fractions. If you are looking at the following processes hamos are experts in these fields:
Plastic/Plastic separation 
(Application fields: black plastics, plastic production waste, plastics from cable waste, PVC window frames, PET beverage bottles, engineering thermoplastics, plastics from electronic waste, DSD packaging materials, bottle caps (closures), plastics from car production, refrigerators, other mixed plastics)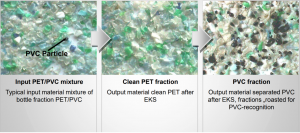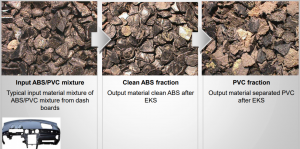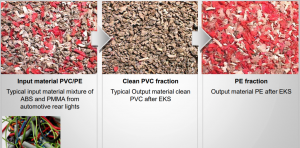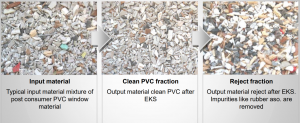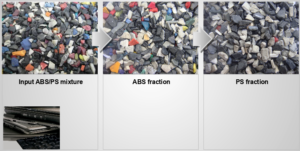 Who is currently investing in electrostatic separation at their recycling facility?
VEKA Recycling Ltd in Wellingborough have worked with Allcontrols for many years and have currently completed phase 2 of 5 of constructing a new plant facility which will include electrostatic separation for their PVC-U recycling operation.  
Their full process means collecting post-consumer PVC frames / PVC offcuts from around the UK, recycle all the materials included thus producing high-grade recycled PVC pellet for re-manufacture into window frames, electrical accessories, and other building components.
Veka Recycling's operational process:
Post-consumer

PVC

size reduction to approx. 40mm in size.

Full m

etal

removal.

Further size reduction to granulate.

Conductive/non-conductive

electrostatic separation.

Electrostatic

polymer separation, regardless of colour.

Colour Sorting

into white and coloured fraction.

Extruding into a pellet / lens compound.
Once fully operational later this year, this £10 million facility will be the most advanced of its kind in the UK.