Allcontrols offers a range of solutions for the cost-effective, efficient separation and recovery of glass from both domestic and industrial waste.
Glass is one of the largest household and industrial waste components in the UK and is widely recycled. Recycling glass is mainly made up of bottles, windows and broken glassware products. As with the recovery of metals, recycling glass uses less energy than producing new glass from sand, lime and soda.
Using the latest technology available to recycle co-mingled glass fractions reduces the waste stream and can offer a profitable way of recycling materials including flint, green and amber glass. Our partners are pioneers in these recycling technologies, delivering solutions that are capable of reclaiming glass in a cost effective and efficient way.
Glass separation solutions available from Allcontrols:
Magnetic Systems
Prior to being separated by optical sorters, ferrous, non-ferrous and stainless-steel metals are removed from the product stream with the Goudsmit range of magnetic systems, eddy current separators and induction sensor systems.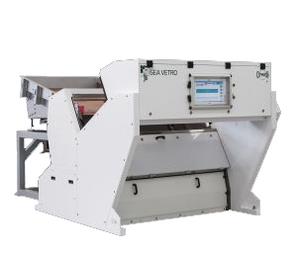 The SEA Vetro optical sorter is specifically designed for the glass industry, using the latest state-of-the-art full-colour RGB camera technology designed by SEA. The SEA Vetro can remove ceramics, stones, porcelain, metals, plastics, leaded glass and HR glass as well as sorting cullet into flint, amber and green in real time. Fraction sizes of 1mm to 50mm can be sorted. Cullet sized over 10mm can be sorted in both dry and wet conditions, without compromising the SEA Vetro's performances.
The SEA Vetro is available in medium and large versions for different production capacities (maximum 18 tonnes per hour). All models can be equipped with one or two lines of ejectors. The two-way version is the standard, providing two outlets for accepted and rejected material. The three-way version has two lines of ejectors, separating the material simultaneously into three streams during a single pass.