Allcontrols has been the official partner in the UK and Ireland for Mesutronic's range of high-performance metal detectors, metal separators and X-ray systems since 2003, providing compliant, highly reliable systems globally.
Additionally, we are also the official UK partners of Goudsmit Magnetics, offering a wide range of magnetic separators suitable for removing material – from large items to fine wear particles – with manual or automatic cleaning systems, from granulates, bulk products, liquids, powders and chemicals.
With our extensive knowledge of both the complete Mesutronic and Goudsmit Magnetics ranges, Allcontrols supplies uniquely tailored systems for the food, pharmaceutical and hygiene industries – providing total peace of mind on quality control, as well as ensuring organisations meet the strictest of obligations and all legislative regulations.
In collaboration with its partners, Allcontrols delivers highly reliable metal detection and inspection systems for the following industries:
Food – see below list

Pharmaceuticals – see below list

Hygiene – see below list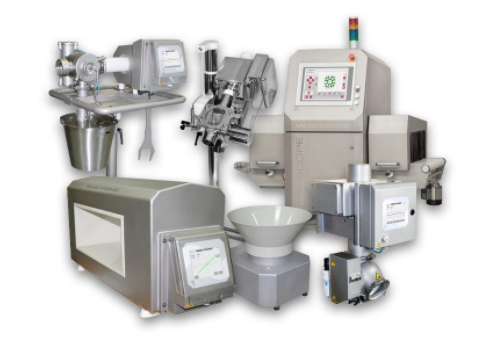 Technology and solutions
Mesutronic has been creating innovative metal detection technology for more than 20 years for a wide variety of industrial applications, ensuring that all unwanted metal contaminants are eliminated from production streams
One example of its leading technology is the excellent, user-friendly easySCOPE X-ray range, its name reflecting both its advanced inspection capabilities and a simple menu interface.
Metal contaminants in food production and manufacturing processes can be extremely costly, resulting in potential customer illness, product recalls and severe equipment malfunctions – all of which can bring serious harm to a company's reputation. The removal of foreign or dangerous materials is, therefore, imperative.
Pharmaceutical and hygiene product manufacturing also requires the highest level of metal detection, performance, accuracy and stability, whether that involves utilising a free-fall system, a pressurised/vacuum system or an end-of-line metal detector for the automatic removal of metal contamination.
Allcontrols' cost-effective, efficient solutions can deliver the precise removal of contaminants and impurities required with a minimum of yield and production loss. Contact us for all your sales, servicing, spare parts and support requirements – be assured, allcontrols uses only genuine Mesutronic components.
Metal Detection in Food
Metal Detection in Pharmacueticals
Metal Detection in Hygiene